BCBS is one of the largest medical insurance company by total members of more than 45 million. And to manage such a big network, they divided it into different departments state wise or employer specific. To identify correct department, they use 3 characters Prefix in the BCBS members plan ID. BCBS prefix are easy to identify using our BCBS prefix lookup because they're part of every BCBS member ID and we included all of them here in the BCBS prefix list.
These BCBS prefix may include alpha and numerical characters. For Example: ABC, AQT, TXX, TEA, A2B, 2AB, 2A2, PAS, ZGP, XXU etc. BCBS Prefix will not only have numbers and the digits 0 and 1. It means that BCBS members IDs prefix will must have alphabets and they may or may not have numbers.
Blue Cross Blue Shield BCBS Prefix List Lookup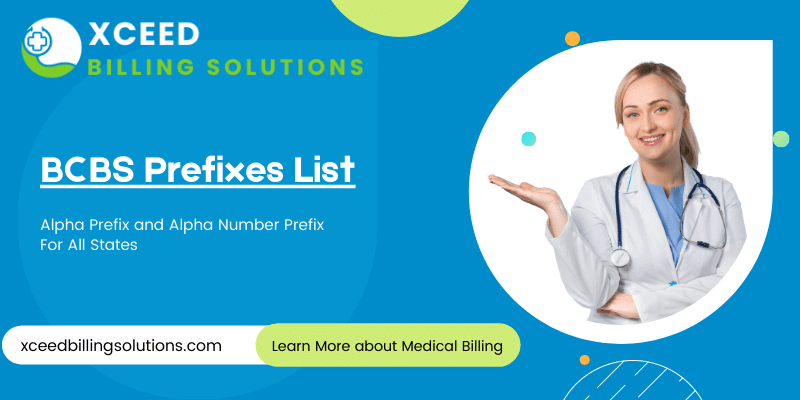 Xceed Billing Solutions motive is to create ease for providers, medical billers, patients and everyone who is involved in revenue cycle process. So, to accomplish our goal, we have listed down the complete BCBS alpha prefix list so that you can easily identify correct BCBS plan. We always make sure to keep BCBS prefix list and BCBS provider phone numbers directory up to date.
You can also contact us for specialty medical billing services
BCBS Alpha Prefix List Lookup
BCBS Alpha Numeric Prefix List Lookup
Due to the exceeding number of BCBS insurance members, Alpha-Only Prefix member IDs exhausted. So, all BCBS plans, including Anthem prefix and Non-Anthem plans announced that member IDs will also be Alpha Numeric from 2018 onwards. But don't worry because our BCBS prefix finder include alpha numeric prefix information as well.
Note for Front Desk and Providers: When Blue Cross Blue Shield members comes to your facility or office, make sure to ask them for their active BCBS plan member ID card. For accurate and quick claims processing, it is necessary to get complete patient insurance information. Make sure to make copies of the front and back of member ID card.
How To Identify Blue Cross Blue Shield Member?
We recently received a query from a provider that how I can identify that patient is BCBS health insurance member. So, to answer this query, we have mentioned below few important points to consider.
BCBS member ID card will have a suitcase logo at the bottom of card which will also help you to identify patient plan like HMO, PPO, POS etc.
The most important and easy way to identify BCBS member is his BCBS member ID alpha prefix.
BCBS member ID have maximum 17 characters but most of the member IDs have 12 characters.
What Are BCBS Prefix?
BCBS Alpha Prefix are first three letters of BCBS Member ID to identify correct Blue Cross Blue Shield department responsible for managing the patient eligibility, benefits and claims etc. BCBS Alpha Prefix list is useful for both providers and BCBS enrolled members/patients.
Always make sure to submit claims to insurance company on time to avoid timely filing denial. Learn more about timely filing limits and CO 29 Denial Code.
These prefixes may include alpha and numerical characters. For Example: ABC, A2B, 2AB, 2A2 etc. BCBS Prefix will not only have numbers and the digits 0 and 1. It means that BCBS members IDs prefixes will must have alphabets.
Note: BCBS FEP (Federal Employee Program) ID starts with the alphabet "R" follow by the insured ID number (For Example: R987654321).
You may also be interested to read about denial code 27 reason and solutions
Importance of BCBS Prefix
BCBS Alpha Prefix are not only important to identify BCBS health insurance member but they are also very important for electronic submission of claims to the correct BCBS plan.
For providers and medical billers who are performing medical billing services, BCBS alpha prefix are helpful to identify the correct payer ID and address for claims submission. Also, these BCBS prefixes helps providers and medical billers to reach the correct claims department for claims and benefits inquiry.
You may also want to know: United Healthcare Claims Address Information
Types of BCBS Prefixes
There are two types of BCBS prefixes which are mentioned below:
1. Plan Specific BCBS Prefix
Plan Specific prefix are assigned by BCBS to each plan. The first two characters of such BCBS prefix spots member plan and the third character is to identify the type of product in which the BCBS member is enrolled.
Plan Specific BCBS Prefix Example
Prefix "ZGP" identifies Blue Cross Blue Shield of Texas – PPO Product
First Character Z assigned to the BCBS Plan.
Second Character G assigned to the BCBS Plan as well.
First Character P is symbolizing that member plan/product type is BCBS PPO.
---
2. Account Specific BCBS Prefix
Account Specific Prefix are assigned by BCBS to national accounts. Curious to know what are national Accounts? Let's dig into it!
BCBS National accounts are employer groups that have outlets/offices in multiple states but they offer limited coverage to their employees. Normally, account specific prefix associates to the employer group name.
Account Specific BCBS Prefix Example
Prefix UTS assigned to University of Texas.
---
What If BCBS Member ID doesn't have Prefix mentioned on Card?
Few times, BCBS plan members doesn't have prefix mentioned on their BCBS Insurance card. It shows that these type of BCBS member IDs are different. To get information about such member IDs, you can contact BCBS prefix directory phone number i.e. 800-676-2583.
Final Instructions about BCBS Prefix Lookup
If you're a medical biller or a provider and going to submit BCBS plan member claim to the insurance, make sure to submit member ID including prefix. For Example: XYZ123456789. Although we regularly update the BCBS Prefix information but in case you're unable to get information about correct BCBS plan from our BCBS Prefix lookup, feel free to contact us OR call BCBS directory phone number at 800-676-2583.
Hi, I'm Kim Keck! Born in Texas, USA. I have completed my Bachelor of Business Administration in Healthcare Management from University of Texas. Right after completing my degree in 2011, I started my job career as an Accounts Receivable in a medical billing company.
Now, with more than 15 years of experience as a medical biller and revenue cycle manager, I am on a mission to serve the medical billing industry with my vast knowledge and years of expertise.